Workshop: Offshore Wind in Greece | Prospects & Challenges for the supply chain & a sustainable growth (presentations, videos)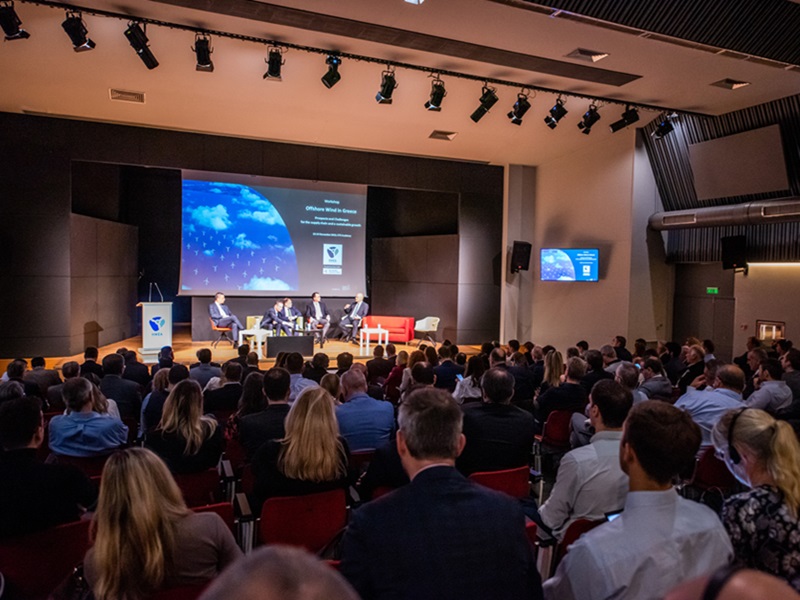 Thursday, 30 November 2023
Workshop for the Offshore Wind Supply Chain in Greece (presentations, videos)
On Thursday, November 23, 2023, the workshop on the challenges and prospects for the development of the domestic supply chain for Offshore Wind was held at the facilities of the OTE Academy. The Workshop was organized by the Hellenic Wind Energy Association ELETAEN in collaboration with Norwegian Offshore Wind NOW.
Over 65 companies from Greece, Norway and other countries discussed in detail in a dense, full-day program. It is the first time that companies from the entire supply chain for OW have come together in the same venue to meet each other, exchange experiences and know-how and consider how they can plan the next steps.
A key conclusion is that there are many challenges for the development of the domestic supply chain for OW, but at the same time there are significant potential and opportunities. Greece has already developed, at a sufficient or significant extend, critical links of this chain such as the cable, cement and the metal industries. It has also a tradition in other important sectors such as shipyards, ports and shipping and significant research experience through academia and Universities.
During the workshop, ELETAEN and its partners presented two studies:
– The study executed by iWind Renewables on the technical requirements of the sites for the construction of the offshore wind farm equipment.
See the presentation of the study by Panagiotis Chaviaropoulos, Member of the BoD, Coordinator of the OW Investors Working Group and MD of iWind Renewables HERE
– The results of the market research carried out by Samaras & Associates. The research was done using a questionnaire and interviews with business executives in Greece involved in the supply chain.
See the presentation of the research by Panagiotis Kastanidis, Director of the Energy Sector of Samaras & Associates HERE
See also the other presentations:
Dimitris Dress, General Director ONEX Technology Systems & Business Solutions HERE
Christos Lykomitros, Vice President Lykomitros Steel S.A HERE
Wolfgang Wandl, CEO of Moreld Ocean Wind, Norway HERE
Spyros Voutsinas, Prof. NTUA, Energy Competence Center HERE
See the presentations of the Working Session:
"Design and planning: Provide the right planning and contracting strategies", Gunnar Birkeland, CEO Source Galileo HERE
"Standardization: Is it possible to pre-select WTG, floaters, substations, cables and mooring?", Wolfgang Wandl, CEO Moreld Ocean Wind HERE
"Studies I: pre-FEED and FEED studies for analyzing technological availability of solutions in the market and bankability of these in the offshore floating wind", Saverio Ventrelli, Global Business Development, Siemens Energy HERE
"Studies II: Site investigations – Geotechnical and geophysical studies", Gunhild Myhr, PGS HERE
"Vessels for OW", Saverio Ventrelli, Global Business Development, Siemens Energy HERE
"Human Resources: Skills needed in typical offshore work both as white- and blue collar", Tor Arne Johnsen, Norwegian Offshore Wind HERE
See the Press Release (in Greek) with photos from the Workshop HERE
Watch the videos from the Workshop:
The introductory greeting of the President of ELETAEN Mr. Panagiotis Ladakakos:
The speech of the Minister of Environment and Energy Mr. Theodoros Skylakakis:
The speech of the Ambassador of Norway Mrs. Lajla Brandt Jakhelln:
The introductory speech of the Chairman of the Board of NOW Mr. Gunnar Birkeland:
The initial speech of Mr. Panagiotis Ladakakos in the 1st panel:
The initial speech of the CEO of HEREMA Mr. Aris Stefatos in the 1st panel:
The initial speech of the Chairman & CEO of ADMIE Mr. Manos Manousakis in the 1st panel:
The initial speech of Mr. Vassilis Triantafyllos in the 1st panel:
The initial speech of Prof. NTUA Stavros Papathanasiou in the 1st panel:
The discussion in the 1st panel after the initial speeches:
The speech of Mr. Panagiotis Chaviaropoulos in the 2nd panel:
The speech of the CEO of ONEX TS&BS Mr. Dimitris Dres in the 2nd panel:
The speech of Mr. Christos Lykomitros in the 2nd panel:
The speech of the CEO of Moreld Ocean Wind Mr. Wolfgang Wandl in the 2nd panel:
The speech of Mr. Panagiotis Kastanidis from Samaras & Associates in the 2nd panel:
The speech of Prof. NTUA Spyros Voutsinas in the 2nd panel:
The discussion in the 2nd panel after the initial speeches:
The speech of General Secretary of Energy Mr. Aristotelis Aivaliotis at the opening of the Working Session:
The speech of the President of RAEWW Mr. Athanasios Dagoumas at the Working Session:
The speech of the President & CEO of DAPEEP Mr. Giannis Giarentis at the Working Session:
The discussion in the Working Session:
Watch videos with statements on the sidelines of the Workshop:
Statement by the President of RAEWW Mr. Athanasios Dagoumas:
Statement by the President & CEO of DAPEEP Mr. Giannis Giarentis:
Statement by the President of ELETAEN Mr. Panagiotis Ladakakos:
Statement by the CEO of ELETAEN Mr. Panagiotis Papastamatiou:
Statement by Mr. Tor Arne Johnsen, EU Advisor της Norwegian Offshore Wind:
See the agenda of the Workshop HERE
See more photos from ΝΟW HERE