Presentations of the workshop :
"

Offshore Wind Energy in Greece: The way forward

"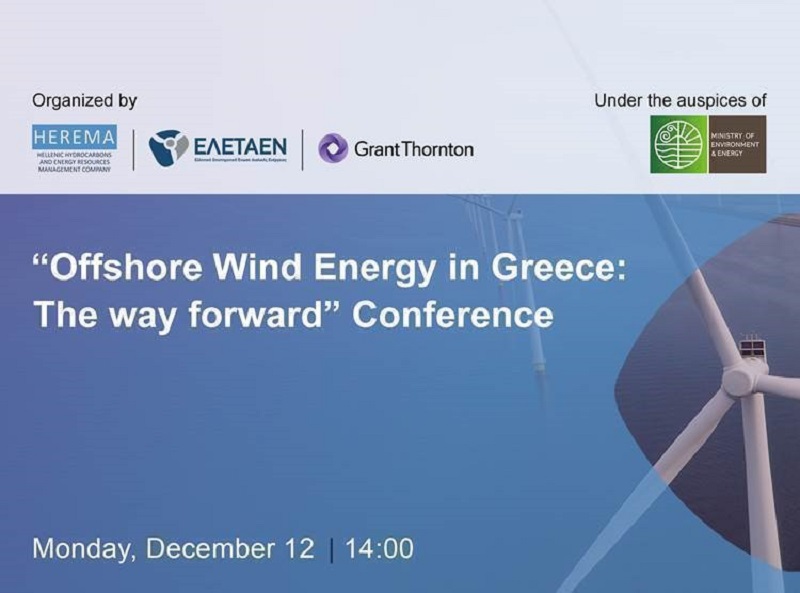 Monday, 12 December 2022
The Hellenic Hydrocarbons & Energy Resources Management Company (HEREMA), the Hellenic Wind Energy Association (ELETAEN) and Grant Thornton, jointly organized the workshop: "Offshore Wind Energy in Greece: The way forward", on Monday December 12 at the Athenaeum InterContinental Athens Hotel, under the auspices of the Ministry of Environment and Energy.
The President of ELETAEN Mr. Panagiotis Ladakakos and the member of BoD Mr. Panagiotis Chaviaropoulos have moderated the two sessions of the workshop.
Ladakakos said, among others: "Offshore wind energy offers an important opportunity for Greece: clean energy with significant domestic added value. Today, onshore wind is – together with photovoltaics – the cheapest form of electricity generation, and -for this reason- the acceleration of the immediate implementation of onshore wind farms is critical for the economy. At the same time, we are starting the development actions and efforts for offshore wind farms, to achieve having the first of them within the next years. We need offshore wind because it offers large volumes of power and can make Greece a clean energy exporter. Importantly, this effort enjoys cross-party support: Both the previous and current Governments have worked for its success. Today we have a new institutional framework. The challenge is its rapid and effective implementation. ELETAEN, with its institutional role, criticism and proposals, will support the efforts of the State in this direction".
You may download the presentations of the workshop below:
– Aristofanis Stefatos, HEREMA
– Thalia Valkouma, Faria Group
– Nikos Frydas, Grant Thornton
– Constantinos Nicolopoulos, LDK
You may download the agenda HERE.