HWEA's presentation at Investment Seminar in London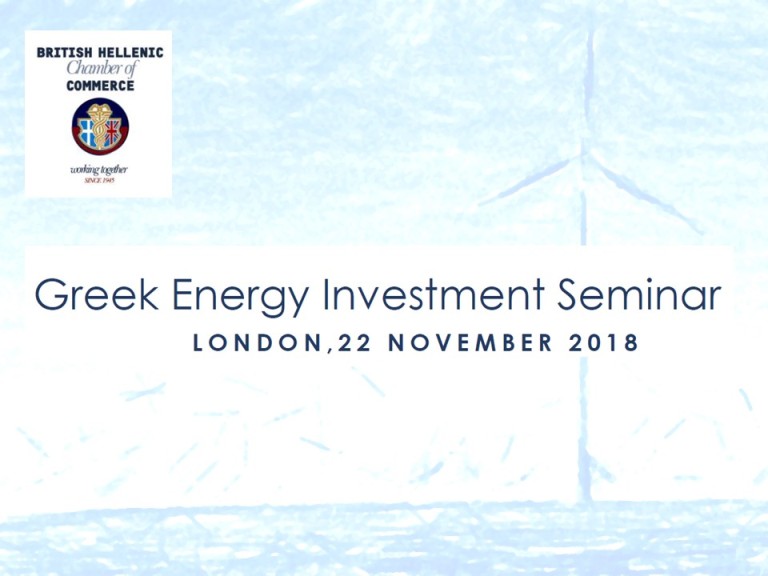 Thursday, 22 November 2018
HWEA's CEO Panagiotis Papastamatiou spoke for the investment opportunities at the Greek Energy Investment Seminar organized by the British Hellenic Chamber of Commerce at Watson Farley & Williams London Office. The presentation covered the current status of the wind energy market in Greece, the new Feed-in premium support mechanism and the auctions scheme. It also included the basic figures for the targets for 2030 as announced by the Ministry of Environment and Energy within the draft Energy and Climate Plan for 2030.
Apart from Papastamatiou, other speakers in the Seminar were:
Riccardo Lambiris, CEO, TAIPED
Marios Zangas, Head of Vestas Hellas & Cyprus
Stella Zacharia, Head of Renewable Energy Assessment & Market Regulations, Terna Energy
Zisimos Mantas, EUNICE
Virginia Murray, Partner, Watson Farley & Williams | WATSON FARLEY & WILLIAMS
Mathios Rigas,  CEO, Energean Oil & Gas
Short remarks were provided by the Ambassador of Greece in UK and the Ambassador of UK in Greece.
Download ELETAEN'S presentation