ELETAEN celebrated its 30th anniversary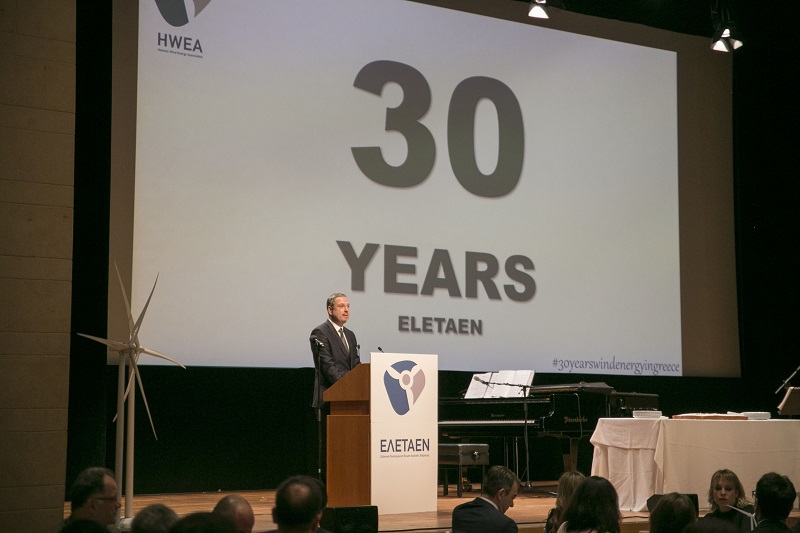 Saturday, January 25, 2020
ELETAEN celebrated its 30th anniversary in a carbon neutral event
727 / 154,1 / 15=62 / 136 / 57,74
With great success and a lot of participants ELETAEN celebrated its 30th anniversary on the occasion of the annual New Year's Event at the Athens Megaron on Saturday 25.1.2020.
The President of ELETAEN Mr. Panagiotis Ladakakos announced 5 numbers that are a record for the wind energy sector in Greece during the last year. Specifically in 2019:
 727MW of new wind farms were connected to the grid. This is an impressive performance as it is almost four times the annual average of the previous decade (185MW),
The largest complex of wind farms 154,1MW, was connected in southern Evia,
The repowering of the first seven wind farms was completed and connected to the grid with a significant reduction in the number of wind turbines. In place of 62 old wind turbines, 15 new ones were installed (15 = 62),
The largest rotor in Greece (136 meters) was installed in the area of ​​Kozani,
The lowest average binding price in auctions was achieved (57,74 €/MWh)
They honored us with their presence and celebrated with us:
The Minister of Environment and Energy Kostis Hatzidakis
The former Minister of Environment and Energy George Stathakis
The Deputy Minister of Spatial Planning Prof. Dimitris Economou
The Secretary General for Energy and Mineral Resources Alexandra Sdoukou
The Μember of the Hellenic Parliament of KINAL George Arvanitidis
The Μember of the Hellenic Parliament of ND Spilios Livanos
The Μember of the Hellenic Parliament of SYRIZA Costas Zachariadis
The Member of the European Parliament Stelios Kympouropoulos
The President of Regulatory Authority of Energy Nikolaos Boulaxis
The Coordinator of the Regional Administration of Thessaly and Central Greece Nikolaos Ditoras
The President and Managing Director of DAPEEP John Yiarrentis
The President and Managing Director of ADMIE Manos Manousakis
The Managing Director of DEPA Konstantinos Xifaras
The President and Managing Director of the Energy Exchange George Ioannou
The President and General Director of CRES Spyros Economou
The President of REN21 Prof. Arthouros Zervos
Carbon footprint
The event was accompanied by the "Estimation and Compensation of the Carbon Footprint" action, which aims at estimating the event-related GHG emissions and then fully offsetting them through the purchase of the corresponding emission allowances from the market.
The carbon footprint is estimated in accordance with the principles outlined in the GHG Protocol standard, which was developed in collaboration with the World Resources Institute (WRI) and the World Business Council for Sustainable Development (WBCSD).
Sponsorships
The sponsors of the event were the following:
Golden Sponsors
Total EREN
Public Power Corporation PPC
Nostira Renewable Energy
Vestas
Terna Energy
Silver Sponsors
Siemens Gamesa Renewable Energy
GE Renewable Energy
EDF Renewables Hellas
Enel Green Power Hellas
Digisec
Sponsors
Elica
DEPA
ELLAKTOR
EWT
Rokas Iberdrola
Paralos
Schneider Electric
TUV Hellas
Jasper Energy
Vensys / Goldwind
Metaxas & Associates
RES Invest
Facets
ENTEKA
Comspeq IT Solutions
Donors
TUV Hellas
Rokas Iberdrola
ΙΤΑ Group
Πέτρα & Φως Boutique Hotel & Spa
Petritis Mani Guest House
SEBAGO
KEDS
You may see:
The presentation of the President of ELETAEN
Media